NONI FRUIT ENZYME - 20 ml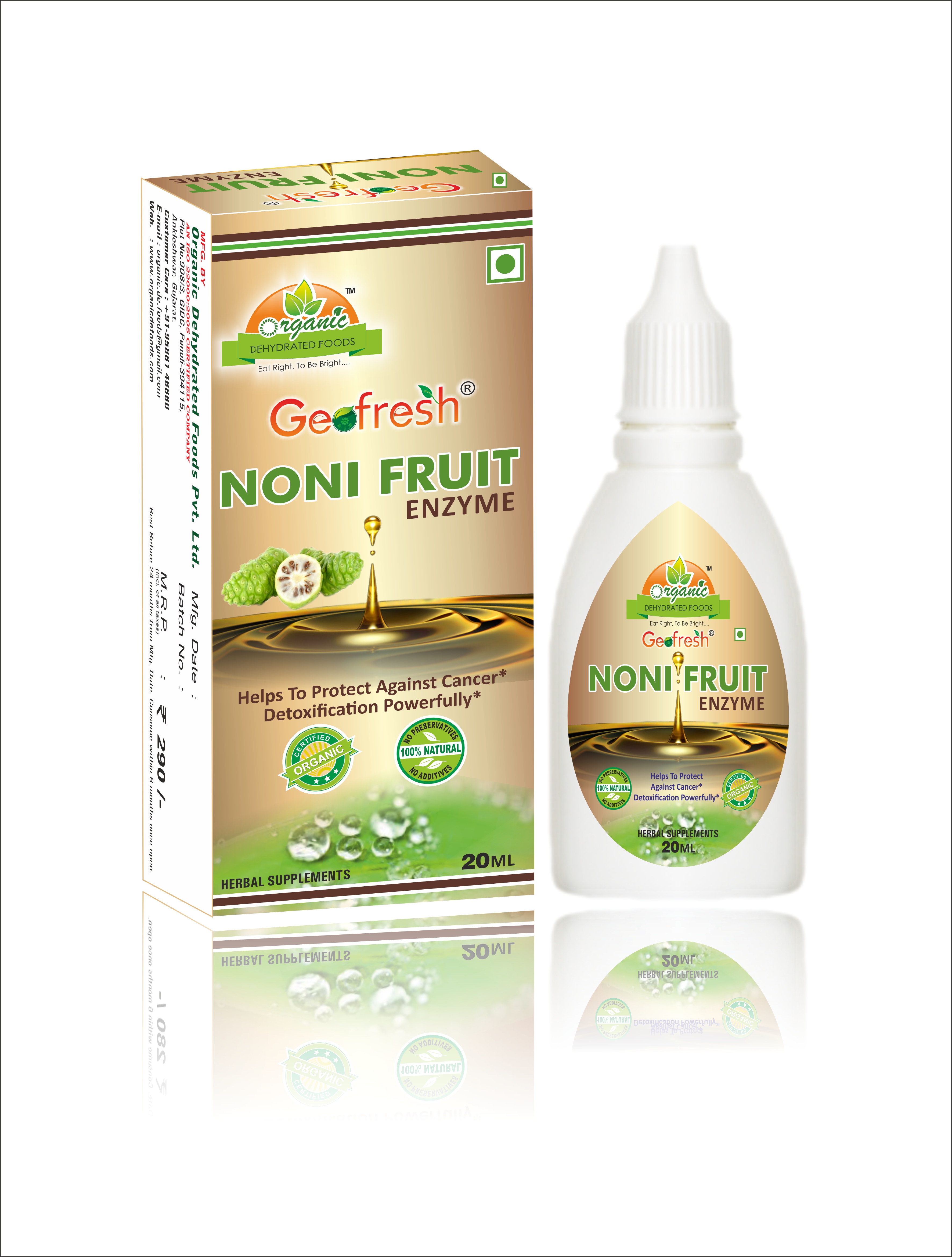 Geofresh Noni Fruit Enzyme – 20 ml
Botanical Name - Morinda citrifolia
Noni Enzyme is extracted from Noni fruit variety of Morinda Citrifolia is the source of most effective supplements to supply back xeronine high level required for immunity booster. Noni contains vitamins, minerals, enzymes, trace elements and sterols, It was discovered also that Noni has the full spectrum of amino acids, making it a perfect source of protein.
Noni Enzyme Extract can penetrate the body cells rapidly, become decomposed and help in the absorption of nutrients by the cells. It enhances protein utilisation by the cells and protects against damages caused by toxic substances. Noni Contains xeronine, but more importantly, contains its precursor, the proxeronine, which is even more effective. Instead of giving our body the alkaloid, proxeronine allows the body to see how much xeronine is produced in order to expel the excess. In this way the proteins of the body can better perform their functions.
Key Health Benefits:-
Keep the Skin Healthy
Chemo-Preventive Properties
Boost Energy Levels
Reduces Muscle Spasms
Protects Liver
Prevent General Body Weakness
Dosage:-
One 20ml bottle of Noni Extracted Enzyme is equivalent to 5.0 litres of Noni Juice.
For Better result, 5 drops should be taken before breakfast and 5 drops before dinner in a glass of lukewarm water or as directed by the Physician.
Safety Information:-
• Read the label carefully before use
• Do not exceed the recommended dose
• Keep out of the reach of children
• Store in a cool dry place. Close the lid properly after use
• Keep away from direct sunlight
Suggested Use:-
Shake well before each use & gently squeeze to release drops.